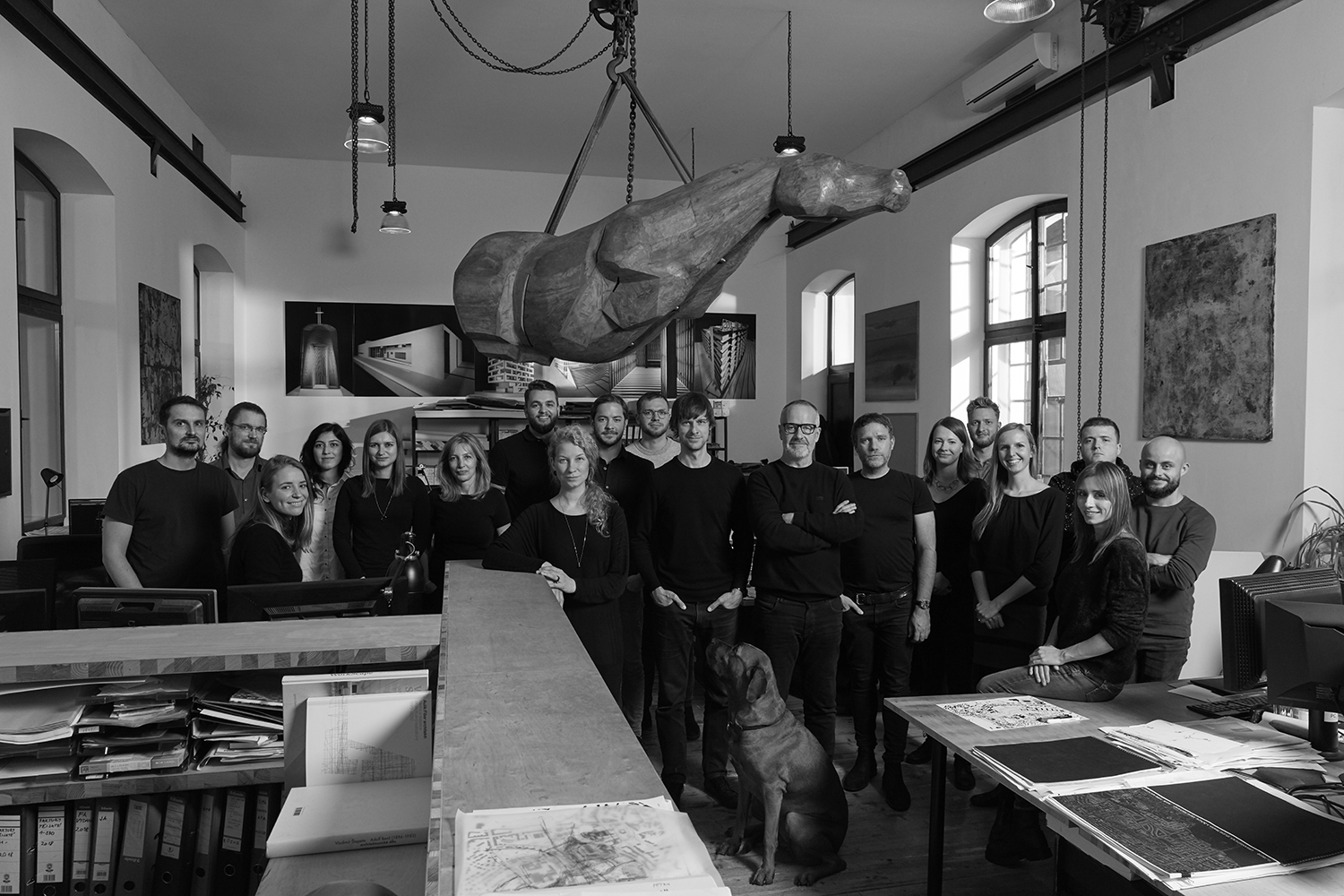 Aulík Fišer architects (AFA)
AULÍK FIŠER ARCHITEKTI is an architectural practice involved in various architectural activities from town planning, design of different types of buildings (particularly office and residential ones), to renovations and/or interior design. The office provides complete services from the site preliminaries to assistance during construction, mostly in the position of an architect/design architect responsible for all design and engineering works. Ing. arch. Jan Aulík established the office named Studio A in 1992. Jakub Fišer became a partner in 2007 and the office was renamed Aulík Fišer Architekti.
The office's gradual development, obtaining valuable experience and feedback project in the current attitude, where respecting functional and rational requirements plays a substantial role (starting from the broadest town planning, impact of buildings on their surroundings, functioning of these buildings, their adequacy, to technical and structural aspects). Combined with visual perceiving of buildings balanced architecture should be established without unnecessary exhibitions and fashionable deposits. 
Jan Aulík
Born 16th November 1958 – Prague, the Czech Republic
1974 – 1978 Intermediate Industrial School in Prague
1978 – 1983 Faculty of Architecture, Czech Technical University in Prague (ČVUT - FA), diploma project – Insulin Production Plant in Mladá Boleslav – professor Hlaváček's class
1983 – 1990 Projektový ústav Hl. města Prahy (Design Institute)
1990 - 1991 ALFA architectural office, ing. Arch. Věra Machoninová
1991 - STUDIO A - owner
1993 - Chartered Architect
2002 - 2009 Member of the Supervisory Board of the Czech Architectural Foundation
2004 – 2008 outside cooperation with Ústav navrhování /Design Institute headed by doc. ing. arch. Ivan Kroupa at the Faculty of Architecture of the Czech Technical University (ČVUT – FA)
2008 - Head of a class – institute 15127 ČVUT - FA
2008 - Member of the Academy of Architecture OA and ČKA
2008 - 2014 Head of the Studio - 15127 Institute CTU - FA
Jakub Fiser
Born 1st June 1972 in Prague
1986 - 1990 Intermediate Industrial School of Building in Prague
1990 - 96 – Faculty of Architecture, Czech Technical University in Prague (ČVUT - FA), diploma project: a multipurpose building Revoluční – Novomlýnská, ing. arch. O. Hájek's class
1995 – 2006 – STUDIO A
2007 – Aulík Fišer architekti
2008 - Member of the Academy of Architecture OA and ČKA
2010 – Member of the Supervisory Board of NČASelected projects designed outside the current practice:
1997 Trutnov swimming pool – competition design (together with J. Holna and M. Kučírková)
2001 extension of a family house in Prague 5 – Chuchle (together with S. Fišerová)
Published in the Yearbook of Czech Architecture 2002 (PROSTOR, ed.  M.Wertig)
2005 refurbishment of a flat in Letná (together with S. Fišerová) – finalist in a competition INTERIER of the Year (organiser: DESIGN centrum ČR)
2008 - Member of the Academy of Architecture OA and ČKA
2009 - 2010 Member of the Supervisory Board of the Czech Architecture Foundation 2010 - 2011 Chairman of the Supervisory Board NCA 2011 - Under a new initiative, a spokesman for Prague 2012 - present Board member NCA 2012 - still a Member of the Metropolitan sounding board in Prague
2012 - 2014 Member of the Board of City Hall Commission for master paln changes
2012 - 2013 representing leading studio A1 Applied Arts in Prague
2013 - expert guarantor Summer School of Architecture Plasy (together with P.Volfem )
2015 - Lecturer of the Summer School of Architecture in Litomyšl